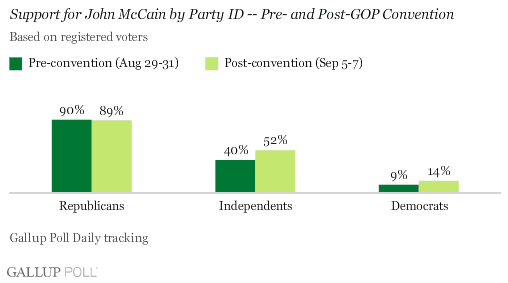 September 9, 2008
Majority of independents now prefer him over Obama, 52% to 37%
PRINCETON, NJ -- John McCain's

6 percentage-point bounce

in voter support spanning the Republican National Convention is largely explained by political independents shifting to him in fairly big numbers, from 40% pre-convention to 52% post-convention in Gallup Poll Daily tracking.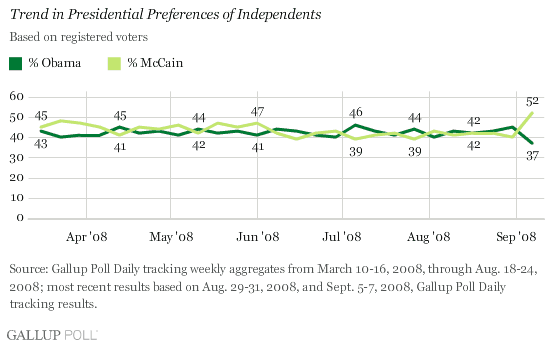 Layering voters' political ideology over their party identification provides the additional finding that the slim group of "pure independents" -- those with no political leanings to either major party -- grew more favorable to McCain by an even larger amount over the past week or so. McCain was preferred over Obama by 20% of pure independents in Gallup Poll Daily tracking from Aug. 29-31. In the latest three-day rolling average, from Sept. 5-7, he is favored by 39% of non-leaning independents, a 19-point increase.
Obama is clearly losing independents. Big time. Thank you, Sarah Palin!
It's no wonder the Obamessiah and his acolytes are convulsing on the floor with rage. The Barracuda wears lipstick.