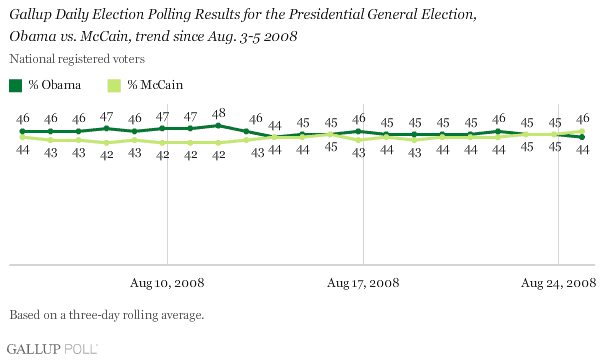 It looks like the Biden pick has hurt Obama rather than help him. Told you so.

According to the August 23-25 Gallup poll of registered voters, John McCain has creeped ahead of Obama 46%-44% since the Illinois senator's running mate pick announcement of last Saturday.

Now, this is hillarious to me but should be frightening to Obamaniacs:

An

analysis of historical election poll trends

by Gallup Poll Managing Editor Jeff Jones shows that recent presidential campaigns have enjoyed a small (though short-lived) bounce from the running mate announcement. This includes a four percentage point bounce for John Kerry in 2004 after selecting John Edwards, a 5-point bounce for Al Gore in 2000 with his announcement of Joe Lieberman, and a 3-point bounce for George W. Bush in 2000 upon choosing Dick Cheney. Bob Dole received an extraordinary 9-point bounce in 1996 after bringing Jack Kemp onto his ticket.
It seems like it's the first time in recent presidential campaign history that a running mate pick actually caused a loss of support rather than a small, short-lived gain.